Just newly arrived in Hawaii and living on Kauai, my family decided to come to Molokai for the day and explore the island.
When I got off the plane and saw the airport, I immediately thought "I love this place."  There were four of us and we were in awe as we drove through the small town of Kaunakakai with no stoplights anywhere and the only big sign read  "Hey who ever stole my weed wacker, bring it BACK."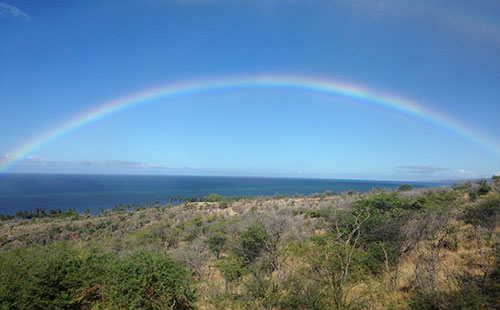 Heading east we drove up to the top of what you could tell was a subdivision with hardly any homes at the time.  It was Kawela Plantation I.  We thought were on top of the world!
It was an unbelievable vista with 180 degrees of ocean and views of 5 islands, Maui, Kahoolawe, Lanai, sometimes the Big Island and the west end of Molokai.
Later we drove east and came across the Mapulehu Wagon Ride and discovered they weren't operating, but instead they welcomed us to join them for drinks by the beach.
Looking over at the views of Maui across the channel, I remember thinking "life doesn't get any better than this."
The next thing I knew I was buying land in Kawela Plantations and that was 1990.  In 1994 we built two homes and I have been here ever since.  Kawela Plantation has views that never get old.  From pretty rainbows to awesome sunsets, it's always beautiful day.  Come see why we love living in Kawela and mabye you will too.